K Magic Live Philippines: A Night of Enchantment with Taemin, Yugyeom, and Hyo
K-pop fans in the Philippines are in for a treat as the highly anticipated K Magic Live concert is set to take place on October 13, 2023, at the SM Mall of Asia Arena. Organized by OctoArts Entertainment, this event will feature K-pop stars Taemin, Yugyeom, and Hyo, promising an unforgettable night of music, dance, and magic. As the first in a series of dream shows planned by OctoArts Entertainment, K Magic Live is sure to leave fans wanting more.
K Magic Live is not just your typical concert. It promises to be an extraordinary experience that combines the best of K-pop music, mesmerizing dance routines, and mind-blowing magic tricks. The audience can expect to be taken on a journey through a world of enchantment and wonder, as the performers showcase their talents in a visually stunning and immersive production.
A Dream Come True for K-pop Fans
For K-pop enthusiasts in the Philippines, the announcement of K Magic Live has been met with excitement and anticipation. The concert will showcase the talents of three popular K-pop artists, Taemin, Yugyeom, and Hyo, who have gained a massive following both in South Korea and internationally. With their captivating performances and unique musical styles, these artists are set to deliver a show that will leave fans mesmerized.
K-pop has become a global phenomenon, with a dedicated fan base that spans across continents. The Philippines, in particular, has a vibrant K-pop community, with fans eagerly supporting their favorite artists and attending concerts and fan events. K Magic Live presents a rare opportunity for Filipino fans to see their beloved idols perform live on stage, creating a dream come true for many.
A Night of Music, Dance, and Magic
Music is at the heart of K Magic Live, with Taemin, Yugyeom, and Hyo bringing their hit songs to the stage. From Taemin's soulful ballads to Yugyeom's energetic tracks and Hyo's catchy tunes, the concert will feature a diverse range of musical styles that cater to different tastes. Fans can look forward to singing along to their favorite songs and experiencing the electrifying energy of live performances.
Dance is another integral part of K Magic Live, with the artists known for their impressive choreography. Taemin, Yugyeom, and Hyo are all accomplished dancers, showcasing their skills through intricate and powerful routines. The concert will feature captivating dance performances that highlight the artists' artistry and precision, leaving the audience in awe.
But what sets K Magic Live apart is the incorporation of magic into the show. Throughout the concert, the audience will be treated to mind-blowing magic tricks that add an extra layer of excitement and wonder. From illusions to levitation and disappearances, the magic acts will leave the audience questioning what is real and what is illusion, creating a truly enchanting experience.
The Lineup: Taemin, Yugyeom, and Hyo
Taemin, Yugyeom, and Hyo are no strangers to the K-pop scene. Taemin, a member of the popular boy group SHINee, has established himself as a solo artist with his smooth vocals and powerful dance moves. His solo career has been met with critical acclaim, earning him numerous awards and recognition for his musicality and stage presence.
Yugyeom, formerly a member of GOT7, has embarked on a successful solo career after the group's disbandment. Known for his versatility as a singer, rapper, and dancer, Yugyeom has released his own music that showcases his unique style and artistry. His solo debut has been highly anticipated by fans, who are excited to see him shine on stage at K Magic Live.
Hyo, a member of the iconic girl group Girls' Generation, has also made a name for herself as a solo artist. Known for her energetic performances and catchy songs, Hyo has captivated audiences with her charismatic stage presence. Her solo career has allowed her to explore different musical genres and showcase her versatility as an artist.
Together, Taemin, Yugyeom, and Hyo bring a wealth of talent and experience to K Magic Live. Their individual strengths and styles complement each other, creating a dynamic lineup that promises an unforgettable night of entertainment.
OctoArts Entertainment: Bringing Dreams to Life
OctoArts Entertainment, the organizer of K Magic Live, is a renowned entertainment company in the Philippines. With a passion for creating unforgettable experiences, OctoArts Entertainment has been at the forefront of bringing international acts to the country. Their dedication to providing top-notch entertainment has earned them a loyal fan base and made them a trusted name in the industry.
OctoArts Entertainment has a proven track record of organizing successful concerts and events, ensuring that every detail is meticulously planned and executed. From securing the venue to coordinating logistics and production, the team at OctoArts Entertainment works tirelessly to bring dreams to life. Their commitment to excellence and their understanding of the K-pop fandom make them the perfect partner for K Magic Live.
A Series of Dream Shows
K Magic Live is just the beginning of OctoArts Entertainment's plans to bring more dream shows to K-pop fans in the Philippines. With their finger on the pulse of the latest trends and a commitment to delivering exceptional performances, OctoArts Entertainment aims to create memorable experiences that will resonate with fans long after the final curtain falls. K Magic Live sets the stage for future events that will continue to push boundaries and exceed expectations.
The success of K Magic Live will pave the way for more exciting concerts and events featuring popular K-pop artists. OctoArts Entertainment is dedicated to bringing a diverse range of acts to the Philippines, catering to different musical preferences and ensuring that there is something for everyone. Whether it's solo artists, boy groups, or girl groups, K-pop fans can look forward to a lineup of dream shows that will showcase the best of the industry.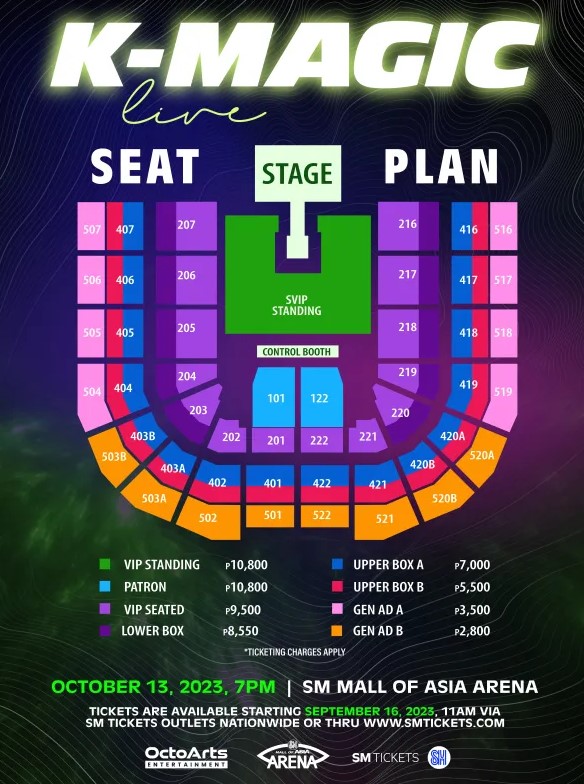 Get Your Tickets Now
For K-pop fans eager to be a part of this extraordinary event, tickets for K Magic Live are now available. Don't miss your chance to witness the magic unfold live on stage. Visit the official ticketing website or authorized ticket outlets to secure your spot at this once-in-a-lifetime concert experience.
Tickets for K Magic Live are expected to sell out quickly, given the immense popularity of the artists and the high demand for K-pop concerts in the Philippines. It is recommended to purchase tickets as soon as possible to avoid disappointment. Whether you're a long-time fan or new to K-pop, K Magic Live promises to be an unforgettable night that will leave you with memories to last a lifetime.
Don't miss out on this opportunity to see Taemin, Yugyeom, and Hyo perform live in the Philippines. Get your tickets now and get ready to be enchanted by the magic of K Magic Live.
Who are the artists performing at K Magic Live Philippines?
A: The lineup for K Magic Live Philippines includes Taemin, Yugyeom, and Hyo. Taemin is a member of the popular boy group SHINee, Yugyeom is a former member of GOT7, and Hyo is a member of the iconic girl group Girls' Generation.
When and where is K Magic Live taking place?
A: K Magic Live is set to take place on October 13, 2023, at the SM Mall of Asia Arena in the Philippines.
References