Fall Out Boy in Manila: A Detailed Look at the Upcoming 2023 Concert
Fall Out Boy, the American rock band that has been making waves in the music industry since 2001, is set to perform in Manila on December 9, 2023, at the Smart Araneta Coliseum. We will provide you with an in-depth guide to the upcoming concert, including detailed information about the band members, a potential setlist, top songs, and more. We will also delve into the band's history, their influence on the music industry, and their connection with their fans.
Fall Out Boy in Manila Concert 2023
The concert is scheduled for December 9, 2023, at the Smart Araneta Coliseum. The ticket prices range from Php1,750 to Php10,750, making it accessible for fans with different budgets.
FOB in Manila Venue Details
The Smart Araneta Coliseum, also known as the Big Dome, is one of the most iconic concert venues in the Philippines. With a seating capacity of over 16,000, it has been the host to numerous international acts over the years.
Fall Out Boy in Manila 2023 Tickets
Tickets for the concert can be purchased through Live Nation when they go live. It is advisable to buy tickets as early as possible to secure the best seats.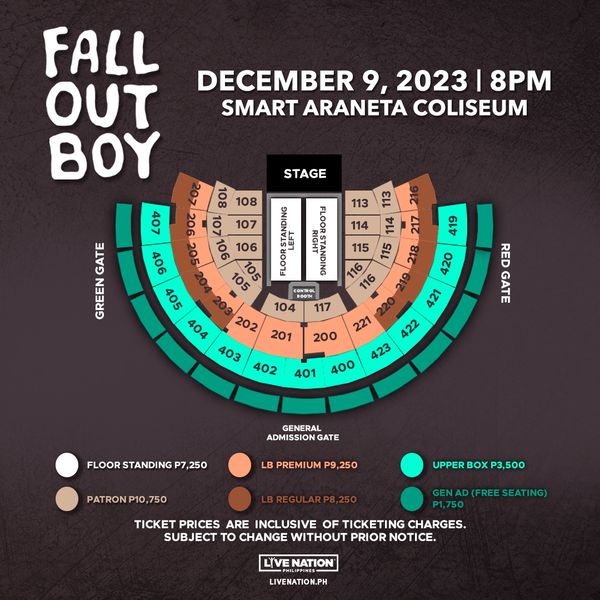 Possible Setlist
While the specific setlist for the Manila concert is not yet available, we can make some educated guesses based on the songs that have been performed at their 2023 concerts. Some of the songs that fans might expect to hear include "The Pink Seashell", "Love From the Other Side", "The Phoenix", "Sugar, We're Goin Down", "Uma Thurman", and "The Middle".
Analyzing Past Setlists
By analyzing the setlists from Fall Out Boy's previous concerts, we can identify some patterns. The band often opens their shows with energetic tracks to get the crowd pumped up, followed by a mix of their hit songs and newer material.
The Band Members
Fall Out Boy is composed of four talented musicians: lead vocalist and rhythm guitarist Patrick Stump, bassist Pete Wentz, drummer Andy Hurley, and lead guitarist Joe Trohman. Each member brings their unique style and talent to the band, creating a sound that is unmistakably Fall Out Boy.
Patrick Stump
Patrick Stump, the lead vocalist and rhythm guitarist of the band, is known for his distinctive voice and songwriting skills. He has been the primary composer for most of Fall Out Boy's discography, contributing significantly to their unique sound. His vocal range and ability to blend different musical styles have made him a standout figure in the rock music scene.
Pete Wentz
Pete Wentz, the bassist, is not only responsible for the band's rhythm section but also serves as the primary lyricist. His introspective and often cryptic lyrics have become a hallmark of Fall Out Boy's music. Wentz's lyrics often touch on personal experiences and societal issues, adding depth to their songs.
Andy Hurley
Andy Hurley, the drummer, joined the band in 2003 and has been a key part of their sound ever since. His powerful and intricate drumming patterns provide a solid backbone for the band's music. Hurley's drumming style, which combines elements of punk rock and heavy metal, adds a unique flavor to Fall Out Boy's sound.
Joe Trohman
Joe Trohman, the lead guitarist, is known for his energetic performances and technical guitar skills. His guitar riffs and solos add a layer of complexity to Fall Out Boy's songs. Trohman's ability to seamlessly blend different guitar styles has played a crucial role in shaping the band's sound.
The Band's History
Fall Out Boy was formed in 2001 in the suburbs of Chicago. The band's name is a reference to a character from the popular TV show "The Simpsons". Over the years, they have released seven studio albums and numerous hit singles, establishing themselves as one of the most successful rock bands of the 21st century.
Rise to Fame
Fall Out Boy's breakthrough came in 2005 with their second album "From Under the Cork Tree". The album spawned two hit singles, "Sugar, We're Goin Down" and "Dance, Dance", which propelled the band to mainstream success.
Musical Evolution
Over the years, Fall Out Boy's music has evolved, incorporating elements of pop, punk rock, and emo. Their ability to experiment with different musical styles while maintaining their distinctive sound has been a key factor in their longevity.
Top Songs
Fall Out Boy has a long list of hit songs that fans would love to hear at the concert. Some of their top songs include "Thnks fr th Mmrs", "Dance, Dance", "My Songs Know What You Did in the Dark (Light Em Up)", and "Centuries".
Chart-Topping Hits
Several of Fall Out Boy's songs have achieved commercial success, making it to the top of music charts worldwide. These include "Centuries", which peaked at number 10 on the Billboard Hot 100, and "My Songs Know What You Did in the Dark (Light Em Up)", which reached number 13.
Fall Out Boy's Influence on the Music Industry
Fall Out Boy's success has not only been limited to their music. They have also had a significant impact on the music industry as a whole. Their blend of pop-punk and emo has influenced a generation of bands, and their music has been a staple on radio stations and music charts worldwide.
Pioneers of the Pop-Punk and Emo Genres
Fall Out Boy is often credited as one of the pioneers of the pop-punk and emo genres. Their music has helped popularize these genres, influencing many bands that came after them.
Influence on Other Artists
Many artists have cited Fall Out Boy as an influence, including bands like Panic! at the Disco and Paramore. Their music has also been covered by numerous artists, further demonstrating their impact on the music industry.
Fall Out Boy's Connection with Their Fans
Fall Out Boy has a dedicated fan base that has been with them since the beginning. The band's connection with their fans is one of the reasons for their enduring success.
Fan Interaction
Fall Out Boy is known for their interaction with fans, both online and at concerts. They often engage with fans on social media and take the time to meet fans at their shows.
Fan Dedication
Fall Out Boy's fans, known as the "Young Bloods", are known for their dedication to the band. They often travel long distances to attend concerts and have been instrumental in the band's success.
The Fall Out Boy concert in Manila is sure to be a night to remember for fans of the band. With a possible setlist that includes some of their biggest hits, a performance by the talented band members, and the band's connection with their fans, it's an event that shouldn't be missed.